Hi, my name is Natalie! I am an OSU senior majoring in biology, and although I am heading into the human anatomy field, I still enjoy looking at flowers and gardening. I love my two gentle giants of dogs, love rock collecting and cavern-exploring, and I was born and still live in the 614 area.
The brown dog pictured below is Shorty. He may not be the brightest bulb in the box, but he definitely wants the most attention. He loves ice cubes and his stuffed llama.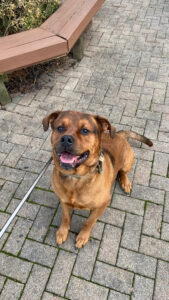 The next fella is my dad's dog, but when we first got him, we both cared for him. This is Sniffy. He's a little brainiac that has many critter friends that live around his house. He loves frozen blueberries on a hot day and when you let him sleep in bed with you.